Dr. Trevor Wilkins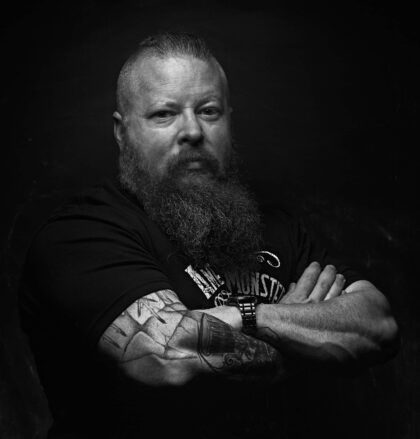 Trevor Wilkins is a licensed professional clinical counselor in the Lexington, KY area, specializing in the symptoms related to trauma, depression, anxiety, and post-traumatic stress disorder. Trevor is a 15-year veteran of uniformed law enforcement, serving with both the Kentucky State Police and the Lexington Kentucky Police agencies.  Prior to his service as a law enforcement officer, Trevor was a firefighter, emergency medical technician, and a public safety dispatcher. Trevor's experience and commitment to serving the community in high-stress environments have allowed him to personally understand the effects of trauma on an individual's life and mental health.  Trevor is trained and experienced in Eye Movement Desensitization and Reprocessing (at The Soldier Center), Rational Emotive Behavior Therapy (at Chicago REBT), Cognitive Behavioral Therapy (at The Beck Institute), Family Behavioral Therapy, Trauma Systems Therapy, Cognitive Processing Therapy, and can provide psychoeducation about the direct effects of trauma and depression on the body.  Trevor has dedicated his career to serving not only those that are walking the thin line between hurt and healing but ensuring that there is help for those that walk the thin line between order and chaos.
Trevor Wilkins' formal education includes a Ph.D. in Counselor Education in Supervision and a Master of Arts in Professional Counseling. Trevor's dissertation research includes the study of stress disorders among law enforcement officers.
Therapist Meredith Sunley, CSW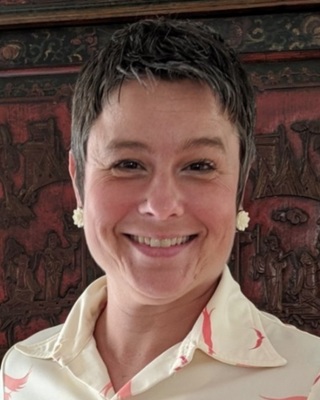 We humans are all unique, with our own struggles and wounds, our own strengths, values, and ambitions. What we share is the right to live the fullest, most satisfying lives that we deserve. My special interests are in PTSD and complex trauma. If you've been told that you're stuck in the past, consider this: Most likely, the past is stuck in you. It may have helped shape you, but it no longer has to define you. If you've come to rely on substances to cope, I want to empower you to regain control. I recognize the pain that pushes individuals into these patterns, and the need to pick up the pieces after abstinence is achieved.
As a person-centered therapist, I view the relationship between client and clinician as paramount. I am trained in evidence-based practices such as EMDR, Motivational Interviewing, and CBT. If you choose to involve your partner in your care, I have completed Level I training in the Gottman Method. I may also take a psychodynamic or emotion-focused approach.
I enjoy working on:
Anger Management
Anxiety
Chronic Relapse
Depression
Domestic Violence
Dual Diagnosis
Emotional Disturbance
Life Transitions
Relationship Issues
Self Esteem
Sexual Abuse
Socio-Cultural Trauma
Substance Use
Transgender
Communities:
Bisexual Allied
Gay Allied
HIV / AIDS Allied
Lesbian Allied
Non-Binary Allied
Open Relationships Non-Monogamy
Queer Allied
Racial Justice Allied
Sex Worker Allied
Transgender Allied
Veterans
If you think we might be a good fit, why not reach out and see? I look forward to getting to know you.
Therapist Kelli Robinson, LMFT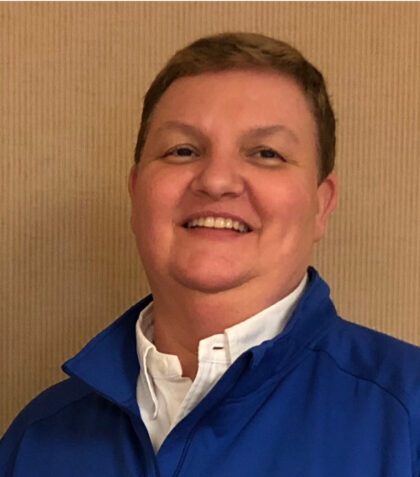 Kelli Robinson is a Licensed Marriage and Family Therapist providing clinical expertise to adults and their families. She has extensive experience dealing with critical incidents and the aftermath experienced by Law Enforcement, spouses, significant others, and their families as well as with Dispatchers, Fire, and EMS, providing critical incident treatment and therapy.
Kelli attended Transylvania University and later graduated from Thomas More University with degrees in Theology and Psychology. She earned her Masters of Art in Pastoral Counseling from the Athenaeum of Ohio-Mt. St. Mary's. While in graduate school she completed a two-year internship at The Christ Hospital where she worked on the Obstetrics floor providing therapy to parents who had experienced the loss of their baby.
Kelli is an engaging and skilled instructor in the following International Critical Incident Stress Foundation to provide training in the following curricula: Assisting Individuals in Crisis, Group Crisis Intervention, Law Enforcement Perspectives in CISM Enhancement, Pastoral Crisis Intervention I, and Pastoral Crisis Intervention II. She is a Certified Trainer for Suicide Prevention for Law Enforcement and has developed and trained Marriage and Relationships in Law Enforcement throughout KY. Kelli is a member of the Kentucky Women's Law Enforcement Network (KWLEN).
Kelli's primary approaches in therapy include Eye Movement Desensitization and Reprocessing (having been trained by Dr. Robbie Adler-Tapia, Ph.D., Cognitive Behavioral Therapy, Family Therapy, Marriage and Couple Counseling.
Prior to coming to Thin Line Counseling, Kelli worked in foster care as a Therapist and Director, Director for a Crisis Stabilization Unit, and Director of Psychiatric Residential Treatment.  Kelli
most recently served as the Deputy Executive Director and then Acting Executive Director for the statewide Peer Team (Kentucky Community Crisis Response Board / KCCRB) providing critical incident stress management to all first responders, schools, and businesses following a critical incident. During her ten years with KCCRB, she coordinated peer teams to respond to requests for assistance. Kelli currently serves as a Behavioral Health volunteer with the KCCRB. Kelli helped start and later extensively coordinated the Kentucky Law Enforcement Assistance Program (KYLEAP) Peer Team. She has trained six different Law Enforcement Police Department Peer Teams. She has been a member and helped to provide consultation since the KY Post Critical Incident Seminar (KYPCIS) began in KY.
Kelli has extensive experience in providing consultation and helping Public Safety Departments and Agencies start their own Peer Teams. She can also provide training and ongoing consultation.
Areas of Focus:
First Responders and Veterans
Spouses and significant others of first responders
Marriage/Couple/Family Counseling
Trauma
PTSD
Healthcare Providers
Veterinarians
Grief related to the loss of a baby
Grief related to the Pandemic
Gay, Lesbian, Transgender, Bisexual Allied
Traumatic symptoms can include mental health difficulties that are also found in depression, anxiety, and difficulties with relationships.  Thin Line Counseling and Consulting LLC is equipped to handle the pain that these mental health struggles can cause.  Potential clients are able to call 24/7 to schedule an appointment.  Do not walk this thin line alone, and do not wait to call Thin Line Counseling for help at 800-464-1958
Trevor and Tim regularly speak to groups about the effects of traumatic stress and provides training about psychotherapy and the relief of traumatic symptoms.  Trevor is a published author about the effects of post-traumatic stress disorder on the members of public safety and has provided treatment presentations to governmental, educational, and psychological agencies.  Please contact Thin Line Counseling LLC at 800-464-1958 for booking and pricing information.